On the 29th May 2020
Over the past couple of years up to a dozen Kittiwakes from the local breeding population have been spending time on the main Vermont Hotel, down on Newcastle Quayside. Nearby is a railway bridge which already hosts over sixty pairs. There is also the legendary medieval Newcastle 'Castle'.
During the 2019 season, up to a dozen Kittiwakes also favoured spending time on the 'St Mary's Heritage Centre' on the south side of the river in Gateshead.
"Did they return again for 2020?"
Yes and like last year a pair has chosen to nest high up, close to the clocktower. We will be watching this location more closely this year. We are hoping not only does the existing pair successfully fledge some young Kittiwakes, but it would also be great if further pairs opted to nest. Fingers crossed.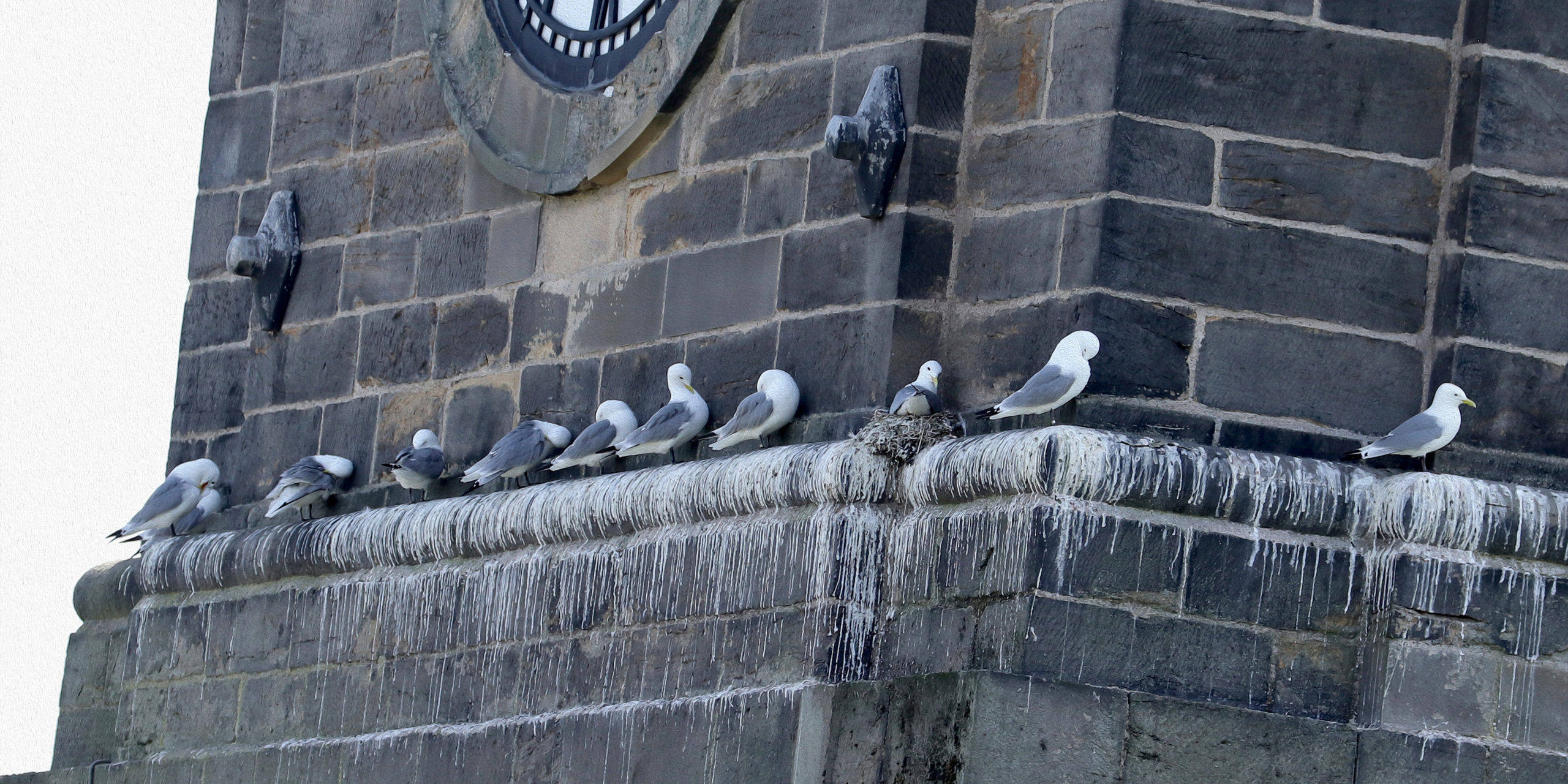 The iconic Tyne Bridge that spans the River Tyne between the city of Newcastle and the town of Newcastle is supported by four huge grey towers. These are also home to dozens of Kittiwakes every year. Numbers present this year, are very promising and the Kittiwakes continue to be very vocal.
Plans were submitted to Newcastle City Council, to host a new leisure venue in one of the towers on the northern side of the river. If agreed, the inside tower is likely to encourage a major refurbishment. Hopefully the Kittiwakes that return every year to nest on the outside, will remain, undisturbed.
"A beacon of the natural world in a big city".
Despite the introduction of a new electric shock system anti-bird deterrent and some remaining anti bird netting etc, a pair of Kittiwakes nested on the Guildhall close to the roundabout during the 2019 season; with a 2nd pair trying later. Today as the 2020 season was well under way, three pairs of Kittiwakes can be easily found, watching us all from the side of the Guildhall building. We wish these all the best of luck.
by Paul Buskin
"What's particularly good about the Guildhall nests is the incredibly narrow ledges they build on, only 3 or 4 cm wide: must be close to the limit of what they can build on. The big advantage is these ledges are inaccessible to gulls & crows, so breeding success is high".
– Lophophanes, 29th May 2020.
---